Food & Lifestyle | Versay Wine on Tap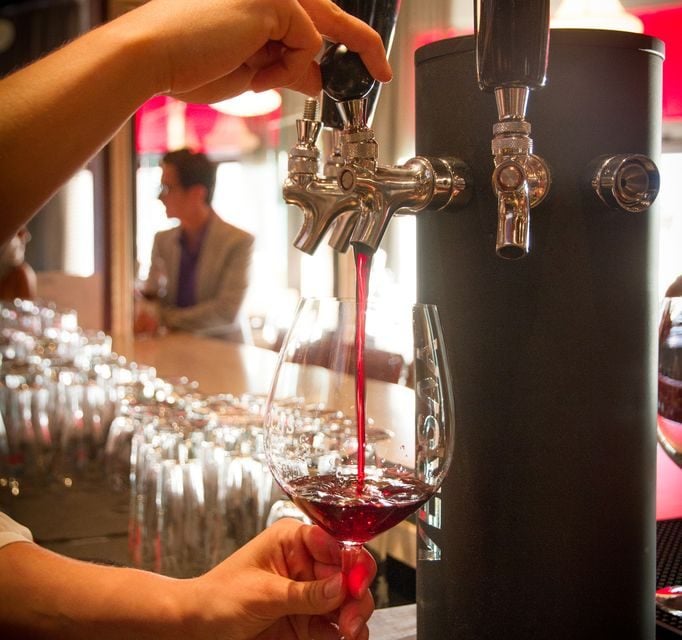 On April 15th 2013, the world of wine in Ontario took a step in a new direction not seen before – The introduction of wine on tap. Yes, you read that right; Wine. On tap. For real. Being an avid fan of wine and its presence in the food and beverage industry I have to admit, I was hesitant on the idea of wine on tap and skeptical on the quality and presentation. I was proven wrong and I should have known better then to judge a book by its cover!
Rock Lobster Food Co. played host to the launch and guests were treated to some notoriously good seafood dishes! The lobster rolls were out of this world a and huge crowd pleaser – oh and you can't have seafood without oysters. A brilliantly displayed oyster bar that had me coming back!
Groupe Versay Inc. is an up and coming company out of Québec that used some old fashion ingenuity along with great products to introduce its first nine wines on tap.
Consisting of:
VQA Riesling from Vineland Estates Winery, Ontario
VQA Cabernet Franc from Vineland Estates Winery, Ontario
Numéro 3 Verdejo 2011, Rueda, Spain
Bob & Robert Merlot Cab/Syrah 2011, Washington, USA
Donnaiolo Sangiovese Cabernet Cannaiolo 2008, Umbria, Italy
Mamma Mia Chardonnay Grechetto 2010, Umbria, Italy (Not available at Rock Lobster)
Prima Donna Sangiovese Riserva 2009- Doc Emilia, Romagna, Italy
Bieler Père et Fils Cuvée Stellie Rosé 2012, Côteaux D'aix En Provence, France
Gazerra, Pinot Grigio 2012, Sicily, Italy
I was pleasantly surprised with the eight varieties and found this new format approachable and fun, which is exactly what President, Jean-François Bieler spoke to me about during the event. "We want a relaxed approach to wine that is about accessibility and quality" said Bieler.
But the big question remained, how does the company exist and flourish under the omnipresent LCBO liquor laws? Kegged and distributed by Vineland Estates and sold by partners Vineland Estates and Halpern Enterprises, the company in essence doesn't have to abide by the strict rules of our governing liquor bureau. Thankfully for them, something as innovative as this, flies under the radar.
Versay reuses its kegs, offers a green alternative, reduces waste and helps to save its vendors money and time in the long run.  "Pricing by the keg allows for high quality wine to be bought in Œbulk which cuts down the cost for restaurant owners and consumers." said Bieler.  A great option in an industry that's constantly looking for the newest and hottest trends to differentiate themselves from one another.
Versay wine is currently available at Rock Lobster on the Ossington Strip, Mark Mcewan¹s ONE in Yorkville, Miller on the Bay by the Harbourfront, Wildfire Steakhouse & Wine Bar in Rosedale, Fabbrica at the Shops of Don Mills and several other restaurants across Ontario.  You can also rent a mobile Versay keg for parties and events directly from the website
If you're planning to try Versay's varieties, please enjoy responsibly.
Photos: Becca Lemire